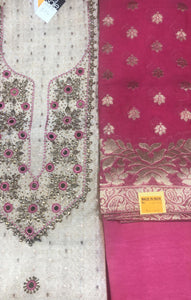 unstitched suit 300895
To place order, complete sizing chart above. Please remember to put the product number and your measurements in the message box at the bottom of the form. Once submitted, our team will be in touch with an invoice via email within 24 hours.
Jaamb cotton gold off white banarasi self print suit with mirrors, zari and stonework embroidery. Corral color bottom. Jaamb cotton banarasi corral gold dupatta.
---