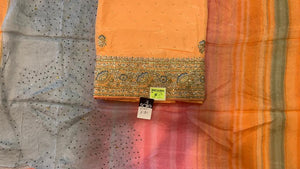 unstitched suit 300849
To place order, complete sizing chart above. Please remember to put the product number and your measurements in the message box at the bottom of the form. Once submitted, our team will be in touch with an invoice via email within 24 hours.
Light orange silk shirt with pearls, stonework and threadwork embroidery. Same color material in silk for the bottom. Multicolor dupatta with matching embroidery and four sides border.
---